Date Published:
February 2005
L'Encyclopédie de l'histoire du Québec / The Quebec History Encyclopedia
Monarchy in Canada
[This text was published in 1948. For the full citation, see the end of the document.]
Canada has always been, since the coming of the white man, under a monarchical form of government, except for a few years when part of Acadia or Nova Scotia was under the government of Oliver Cromwell. The kings of France, during the period of French rule, were as follows:
François I (1515-47); Henri II (1547-59); François II (1559-1560) ; Charles IX (1560-1574) ; Henri III (1574-1589) ; Henri IV (1589-1610); Louis XIII (1610-43) ; Louis XIV (1643-1715); Louis XV (1715-74).
Since the English flag was first planted on what is now Canadian soil the kings and queens of England (or Great Britain ) have been as follows:
Henry VII (1485-1509); Henry VIII (1509-47); Edward VI (1547-53); Mary (1553-8); Elizabeth (1558-1603); James I (1603-25); Charles I (1625-49); Charles II (1880-85); James II (1685-8); William III (1889-1702); Anne (1702-14); George I (1714-27); George ll (1727-80); George III (1780-1820) George IV (1820-30) William IV (1830-37); Victoria (1837-1901) Edward III (1901-1910); George V (1910-1936); Edward VIII (1936); George VI (1938-1952) Elizabeth II (1952- ).
The rule of the French kings in Canada was absolutist, [paternalistic] and autocratic; and after the cession of Canada to Great Britain in 1763, the authority exerted by the king in Canadian affairs was not always negligible. But after the firm establishment of parliamentary government in Great Britain during the latter part of the reign of George III, and especially after the triumph of responsible government in Canada during the early years of Queen Victoria 's reign, the direct authority of the monarchy in the government of Canada disappeared. This does not mean, however, that the influence of the monarchy has ceased. Queen Victoria was venerated in Canada to a greater degree than perhaps in the mother country; and her birthday (May 24) is still observed in Canada as a public holiday, under the name of "Empire day" [today Victoria Day]. Edward VII, who visited Canada as Prince of Wales when a young man in 1860, and still more George V, who visited Canada as Duke of York with his wife in 1901, commanded the affection and respect of the Canadian people. Edward VIII identified himself with Canada as Prince of Wales on three occasions, when he visited it in 1919, in 1924, and in 1927.
Edward VIII abdicated on December 10, 1936, and was succeeded by his brother, George VI. George VI and his queen, Elizabeth, were crowned on May 12, 1937 ; nearly two years later, May 6, 1939 , they sailed for Canada, on what was the first visit to Canadian shores by a reigning monarch. They spent practically a month in Canada, excepting four days devoted to a visit to Washington and New York from June 8 to June 11. Everywhere they were received with the greatest loyalty and enthusiasm. When leaving Canada on June 15, it was universally admitted that they had captivated the hearts of the Canadian people.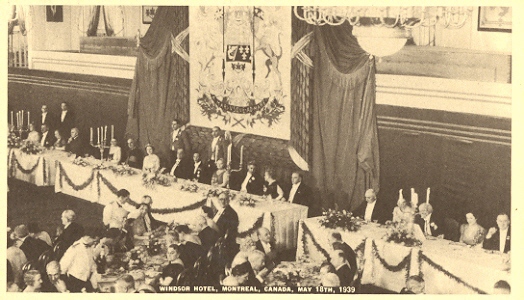 Banquet in Honour of their Majesties, King George VI and
Queen Elizabeth, at the Windsor Hotel, Montreal, on May 18th, 1939
Sitting between the monarchs is Camilien Houde, Mayor of Montreal; on Queen
Elizabeth's left is the Roman Catholic Archbishop of Montreal
The itinerary of Royal Tour included:
Quebec, Three Rivers, Montreal, Ottawa, Kingston, Toronto, Schrieber, Port Arthur, Fort William, Winnipeg, Brandon, Regina, Moose Jaw, Medicine Hat, Calgary, Banff, Kamloops, Vancouver, Victoria, New Westminster, Chilliwack, Jasper, Edmonton, Saskatoon, Melville, Sioux Lookout, Sudbury Junction Guelph, Kitchener, Stratford, Windsor, London, Ingersoll, Woodstock, Brantford , Hamilton, St. Catharines, Niagara Falls, Delson, Sherbrooke, Levis, Rivière-du-Loup, Newcastle, Fredericton, Fairville, Saint John, Moncton, Cape Tormentine, Charlottetown, Pictou, New Glasgow, Halifax.
The truth is that as the authority of the monarchy has declined in Canada, its influence has in some respects increased. With the coming of responsible government, and especially with the coming of autonomy, or the equal status of the Dominions with the mother country, as defined by the Statute of Westminster, the throne has become the link which binds the British Empire together. The monarchy has become the symbol of imperial [Commonwealth] unity.
Source: W. Stewart WALLACE, ed., The Encyclopedia of Canada, Vol. IV, Toronto, University Associates of Canada, 1948, 400p., pp. 317-318.