L'Encyclopédie de l'histoire du Québec / The Quebec History Encyclopedia
Métis Beach
Village de Métis-sur-Mer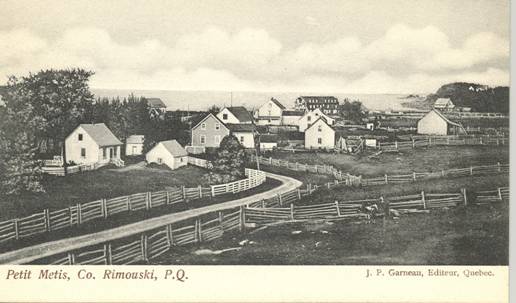 The village of Petit Metis as represented
on a postcard (c 1900-1910)
Metis Beach, a village and summer resort in Matane county, Quebec, on the south shore of the St. Lawrence, and on a branch line of the Canadian National Railway, 40 miles east of Rimouski. Its French name is Metis-sur-Mer; and it was formerly known as Little Metis, to distinguish it from Grand Metis, 10 miles to the westward, on the Metis or Mitis river. The word Metis or Mitis is said to be an abbreviation of the Micmac word mitisk, signifying "birch tree". It is not to be confused with the word Métis, signifying "half breed". Metis Beach is one of the most popular summer resorts on the lower St. Lawrence, with two golf courses, and has in the height of the season a population of over 1,500 people. Its permanent population is about 300. See S. M.. Baylis, Enchanting Metis (Montreal, 1928).

Petit Métis in 1878; picture from a drawing by Rev. T. Fenwick
Source: l'Opinion publique, August 8, 1878, p. 382
Source: W. Stewart WALLACE, ed., The Encyclopedia of Canada, Vol. IV, Toronto, University Associates of Canada, Toronto, 1948, 400p., p. 282.