Date Published:
June 2005
L'Encyclopédie de l'histoire du Québec / The Quebec History Encyclopedia
Sir Francis Hincks
Hincks, Sir Francis (1807-1885), statesman, was born in Cork, Ireland, on December 14, 1807, the youngest son of the Rev. Thomas Dix Hincks, the founder of the Royal Cork Institution. He was educated at the Royal Belfast Academical Institution; and from 1824 to 1829 he served an apprenticeship in a counting-house in Belfast. In 1832 he came to Canada, and settled in York, Upper Canada. In 1835 he became cashier or manager of the People's Bank, which was established by some of the Reformers in opposition to the Bank of Upper Canada; and in 1839 he founded the Examiner newspaper as an organ of moderate Liberal opinion. In 1841 he was elected to the first Legislative Assembly of united Canada for Oxford ; and in 1842 was appointed receiver-general and a member of the executive council by Sir Charles Bagot. He continued as receiver-general in the first Baldwin-Lafontaine administration, and retired from office with his colleagues in November, 1843. In 1848 he resumed office as inspector-general in the second Baldwin-Lafontaine government; and on the retirement of Robert Baldwin and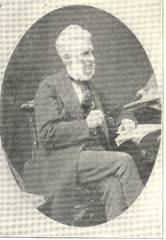 Louis Lafontaine in 1851, he became prime minister in the Hincks-Morin administration. His government rendered important services in connection with railway-building and the negotiation of the reciprocity agreement with the United States in 1854; but it failed to deal with the thorny questions of the secularization of the clergy reserves and the abolition of the seigniorial tenure of Lower Canada, and in September, 1854, it was obliged to resign.
In 1855 Hincks was appointed by the Colonial Office governor-in-chief of Barbados and the Windward islands ; and in 1862 he became governor of British Guiana. On relinquishing this post in 1869, he returned to Canada, and was immediately pressed into service by Sir John Macdonald as finance minister of the Dominion. He was elected to the House of Commons for North Renfrew, and in the second parliament of Canada he sat for Vancouver. His "resurrection", as it was termed, proved, however, a disappointment, since he had, in his fifteen years' absence, lost touch with Canadian politics, and he did not bring to Macdonald the strength anticipated. In February, 1873, therefore, he resigned from the cabinet, and in 1874 he retired from active politics. From 1873 to 1879 he was president of the ill-fated City Bank of Montreal ; and during his last years he was the editor of the Montreal Journal of Commerce. He died in Montreal on August 18, 1885.
He married (1) in 1832, Martha Anne Stewart (d. 1874), of Belfast ; and (2) in 1875 Emily Louisa Delatre (d. 1879), widow of the Hon. R. B. Sullivan. He was created a C.B. in 1862, and a K.C.M.G. in 1869. He published his Reminiscences (Montreal, 1884), and some pamphlets, Canada, its financial position and resources (London, 1849), The political history of Canada between 1840 and 1855 (Montreal, 1877), and The boundaries formerly in dispute between Great Britain and the United States (Montreal, 1885). See R. S. Longley, Francis Hincks and Canadian public finance (Canadian Historical Association, Report, 1934).
Source : W. Stewart WALLACE, ed., The Encyclopedia of Canada, Vol. III, Toronto, University Associates of Canada, 1948, 396p., p. 142.