Date Published:
July 2005
L'Encyclopédie de l'histoire du Québec / The Quebec History Encyclopedia
James Wolfe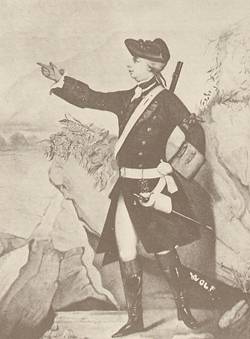 Biographies:
Lawrence J. BURPEE, "James Wolfe", in The Oxford Encyclopaedia of Canadian History, London and Toronto, Oxford University Press, 1926, 699p., pp. 690-691. [In English]
Louis LE JEUNE, "James Wolfe", dans Dictionnaire Général de biographie, histoire, littérature, agriculture, commerce, industrie et des arts, sciences, moeurs, coutumes, institutions politiques et religieuses du Canada, Vol. 2, Ottawa, Université d'Ottawa, 1931, 862p., pp. 818-821. [en français]
W. Stewart WALLACE, ed., "James Wolfe", in The Encyclopedia of Canada, Vol. VI, Toronto, University Associates of Canada, 1948, 398p., pp. 315-316. [In English]
William WOOD, The Winning of Canada. A Chronicle of Wolfe, Toronto, Glasgow, Brooke & Company, 1915, 152p.
Chapter 1. The Boy, pp. 1-9.

Chapter 2. The Young Soldier, 1741-1748, pp. 10-27.

Chapter 3. The Seven Years' Peace, 1748-1755, pp. 28-42.

Chapter 4. The Seven Years' War, 1756-1763, pp. 43-51.

Chapter 5. Louisbourg, 1758, pp. 52-66.

Chapter 6. Quebec, 1759, pp. 67-98.

Chapter 7. The Plains of Abrahams, September 13, 1759, pp. 99-139.

Chapter 8. Epilogue - The Last Stand, pp. 140-145.

Bibliographical Note, pp. 147-148.
Documents
Manifeste de Wolfe à la population (28 juin 1759) [en français]
Wolfe's Manifesto to the people of Quebec (June 28, 1759) [in English]
External Links / Liens vers d'autres sites:
Biographies de Wolfe au Dictionnaire biographique du Canada et à l'Encyclopédie du Canada [en français]
Biographies of Wolfe at the Dictionary of Canadian Biography and at the Canadian Encyclopedia [In English]
For a critical evaluation of the military role of James Wolfe, consult the presidential address to the Canadian Historical Association [1936] made by E. R. Adair. This address is entitled "The Military Reputation of Major-General James Wolfe".