Date Published:
April 2007
L'Encyclopédie de l'histoire du Québec / The Quebec History Encyclopedia
Alexander Mackenzie
Claude Bélanger,
Dept. of History,
Marianopolis College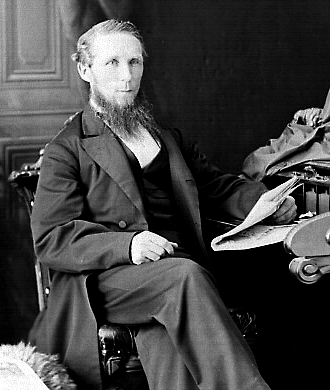 Born in Scotland, of parents of modest origins, in 1822, Mackenzie became a stonemason and emigrated to Canada in 1842. He settled in Canada West (Ontario) where he was quite successful at his trade. A strong advocate of egalitarianism, of democratic forms of government and of liberalism, he joined the Clear Grits Party and rapidly rose in prominence. He was elected to the Legislature of the United Province of Canada in 1861. In the period of 1864-1867, Mackenzie was a supporter of Confederation. In 1873, he became the leader of the emerging Liberal Party of Canada amid the clamour surrounding the Canadian Pacific Scandal. When Macdonald resigned as Prime Minister, the Governor-General called on him to form the new government.
Mackenzie was the Prime Minister of Canada between 1873 and 1878. As much as could be done in the Canadian conditions of the time, Mackenzie conducted the affairs of state in an honest fashion, shunning as much as possible what he considered to be the evils of patronage. Under his administration, the Supreme Court of Canada was created (1875), the Intercolonial Railway was completed (1876) and the electoral system was reformed by introducing simultaneous voting in all the electoral districts of Canada as well as the secret ballot.
However, his term of office coincided with the onset of a major economic depression which gripped North America from 1873 to 1878. The economic conditions made it impossible for the Liberals to pursue their policy of free trade with the United States. As well, it led to the cancellation of the contract binding the government to the Canadian Pacific Railway in the construction of the transcontinental railway. Wishing to exercise fiscal restraint – a policy advocated by the Liberals against the high spending Conservatives in the XIXth century – Mackenzie pursued the construction of the railway as a government project, slowing down the rate of construction to the point that there was talk of separation from Canada in British Columbia. Under his administration, approximately 700 miles of line were constructed, mostly in the prairie part of the West. At this rate, Canada was not fulfilling the terms of union with British Columbia. It could be argued that the Mackenzie railway came from nowhere, and went nowhere, with no one to service in between… Worse, linkages were established with existing railways in the United States and Canadian sovereignty over the West became a serious issue, one that Macdonald was quick to seize upon. In 1878, Mackenzie was defeated at the polls by Macdonald. Canadians had had enough of restraint and turned, once again, to Macdonald who claimed to have the solution to the economic woes of the country in promising to introduce a National Policy. A man of great integrity, Mackenzie had been instrumental in cleansing the political scene in Canada. However, he could not resist long against the charismatic figure and the personal magnetism of John A. Macdonald.