Date Published:
July 2005
L'Encyclopédie de l'histoire du Québec / The Quebec History Encyclopedia
James Murray
Murray, James (1721-1794), governor of Quebec (1760-68), was born at Ballencrief, Scotland, on January 21, 1721 (old style), the fifth and youngest son of Alexander, fourth Lord Elibank, and Elizabeth Stirling. He entered the army in 1740, as a second lieutenant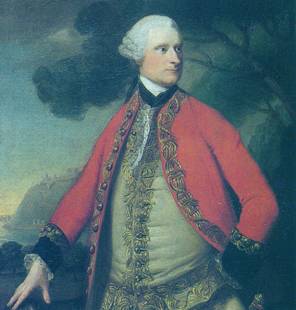 in Wynyard's Marines; and during the next twenty years saw much active service in both Europe and America. In 1751 he purchased the lieutenant­colonelcy of the 15th Foot; and in 1758 he commanded a brigade at the capture of Louisbourg, Cape Breton. He was one of Wolfe's brigadiers in 1759 during the siege of Quebec ; and he commanded the left wing of the British army at the battle of the Plains of Abraham. On the death of Wolfe, and the departure of the other brigadiers, he succeeded to the command of the British force in Quebec ; and though defeated at the battle of St. Foy in the spring of 1760, he retained Quebec until the arrival of reinforcements by sea. In the summer of 1760 he took part in the movements which led to the surrender of the French troops in Canada ; and in the autumn of 1760 he was appointed military governor of Quebec. He commanded the troops in this area during the period of military rule; and in 1764 he was appointed first civil governor of the province of Quebec. He distinguished himself by his opposition to the repressive measures first proposed by the British government in regard to the French Canadians; and he inaugurated the policy of conciliation of the French afterwards embodied in the Quebec Act. In doing so, he fell foul of the English mercantile element which had invaded the colony; and in 1766 he was recalled to meet the charges made against him. After full inquiry, the charges made against him by the English element were dismissed, and he continued to hold the office of governor of Quebec until 1768; but he did not return to Canada .
In 1774 he was appointed governor of Minorca, and in 1782 he was compelled, after a long siege, to surrender Minorca to a combined French and Spanish force. He was court-martialled, but the charges against him were dismissed. In 1772 he was promoted to be lieutenant-general; and in 1783 full general. He died at Beauport House, near Battle, Sussex, on June 18, 1794 . He was twice married, (1) to Cordelia Collier (d. 1779), by whom he had no issue; and (2) to Anne, daughter of Abraham Witham, by whom he had three daughters and one son.
See Major-Gen. R. H. Mahon, Life of General the Hon. James Murray, a builder of Canada (London, 1921); A. C. Murray, The five sons of "Bare Betty" ( London, 1936) ; and J. M. Le Moine, Le premier gouverneur anglais de Quebec (Trans. Roy. Soc. Can., 1890).
Consult the article on Murray at the Dictionary of Canadian Biography.]
Return to the Seven Years' War home page
Source: W. Stewart WALLACE, ed., James Murray", in The Encyclopedia of Canada, Vol. IV, Toronto University Associates of Canada, 1948, 400p., pp. 358-359.