Historical Statistics of Canada / Statistiques Historiques du Canada
Regional Origin of Canadian Immigrants
Selected Years, 1900-1970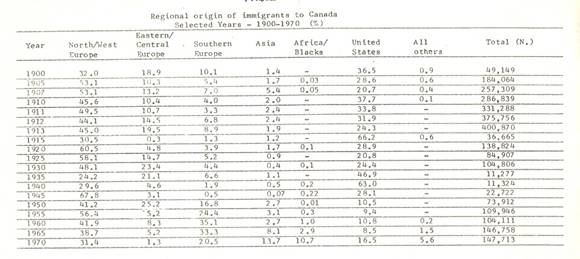 North/West Europe: Belgium, British (British Isles, Ireland, Australia, New Zeland, Union of South Africa, Newfoundland), Denmark, Finland, Holland, France, Germany, Iceland, Luxembourg, Norway, Sweden, Switzerland.
Eastern/Central Europe: Austria, Czech and Slovak, Estonia, Hungary, Jewish, Latvia, Lithuania, Poland, Russia, Ukraine.
Southern Europe: Albania, Bulgaria, Greece, Italy, Malta, Portugal, Romania, Spain, Yugoslavia.
Asia: Arab, Armenian, China, India (Indian sub-continent), Iran, Japan, Lebanon, Syria, Turkey.
Africa: Egypt, Black, Carribean.
Data calculated from Alan B. ANDERSON and James S. FRIDERES, Ethnicity in Canada. Theoretical Perspectives, Toronto, Butterworth, 1981, 334p., pp. 140-155.