The Picture Gallery of Quebec History
Last revised:
23 August 2000

The Amoskeag Textile Factory Manchester, New Hampshire, (circa 1920)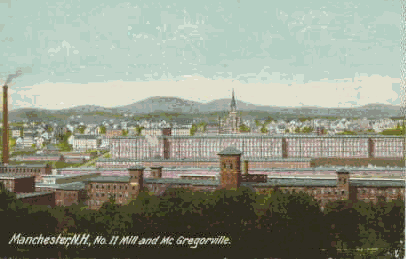 Urban development started in Manchester, New Hampshire, around 1830. Situated on the Merrimack River, some 95 kilometres from Boston, the town developed rapidly, especially after the Civil War, and became the country's textile capital. In 1838 the Amoskeag Manufacturing Company was established in this city. It continued to operate until 1936. Amoskeag is from the Algonquin language and means « place of many fish ».
The Amoskeag had a network of 30 mills, closely related geographically, that produced cotton and woolen textile products. Around the turn of the century, they were the largest textile producers in the world, employing some 17,000 workers in their mills in Manchester.
The panoramic picture of the Amoskeag shown above is unable to show the full extent of the main plant, so large was the structure! One estimate claims that the mills of the Amoskeag had about 2,500 kilometres of floor space. The mill exported 5 million yards of cloth every week!
Note in the background of the Amoskeag, some of the tenements of the « Little Canada » and the presence of the Roman Catholic Church.
Back to : The Emigration of French Canadians to the United States, 1840-1930
© 1999 Claude Bélanger, Marianopolis College