The Picture Gallery of Quebec History
Last revised:
23 August 2000

Huge Textile Mill on the Merrimack River, Lowell, Massachusetts (circa 1920)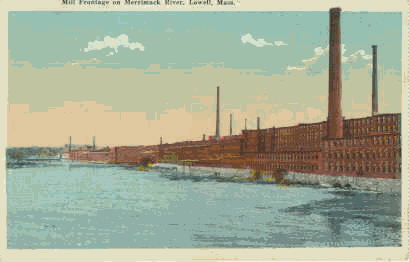 The camera, even with a panoramic shot could not fully show the sheer size of the textile mills of the New England area. This is the mill Phillipe Lemay worked in. His story was set down and preserved by the American Life Histories project carried out between 1936 and 1940. [The story is available at http://lcweb2.loc.gov/ammem/wpaquery.html; just enter French Canadians in the search engine].
Phillipe Lemay was born in St Eprem d'Upton on June 29, 1956. His parents were poor farmers that had fourteen children of which he was the fourth. They emigrated to the United States in 1864. The family sold all of their household possessions in order to afford the trip to Lowell. Their trip by train from St. Ephrem to Lowell took them five days. When they arrived, they literally owned only the clothes on their backs. Despite the opposition of his father, who would have wished for Philippe to go to school, he started work at only eight years old in the Lawrence mill of Lowell. There he worked from six in the morning to six at night for less than fifty cents a day as a bagboy and doffer.
In 1875, his parents returned to the farm. Eventually they were to return to factory life, and his father died of a work-related accident when 80 years old!
Slowly, despite numerous difficulties, Philippe was to rise at the mill: by the late seventies he was a third hand on spinning machines, earning $2.00 a day; in 1881, he was promoted second hand and in 1901, he became an overseer in the No. 1 spinning mill, the first French Canadian to have such a position in his mill. Ordinarily, such a position went to anglophones of British or Irish origins. He continued to work at the mills for sixty years until ill health forced him to retire in 1924
All of his life, he remained grateful for the opportunity that his employers had given to him, and he mentioned with pride that they had given to him one month extra salary upon his retirement.
Back to : The Emigration of French Canadians to the United States, 1840-1930
© 1999 Claude Bélanger, Marianopolis College