The Picture Gallery of Quebec History
Last revised:
23 August 2000

Holy Rosary, French Catholic Church, Rochester, NH (circa 1945)
The Roman Catholic Church was a fundamental institution, with its large network of "national parishes", in fostering la survivance among Franco-Americans. It provided them with schools, hospitals, social assistance, clubs and societies. As soon as the French Canadian population of an area was sufficiently large to support a priest and a church, the inhabitants would ask their bishop to form a separate national parish, and to receive a priest of their nationality. Sometimes, this process created difficulties and caused friction. Hundreds of priests were sent from Quebec to minister to Franco-Americans.
The church shown here is that of the Holy Rosary in Rochester, New Hampshire. The parish was established in 1883-1884. According to Hamon, when the original meeting took place to establish the parish, 40 heads of families had immediately pledged $100 each so that the project would be brought to fruition. This amount of money was considerable for workers whose wages were never high. Yet, fully 20% of the heads of families of the French Canadian community of Rochester were prepared to make such a contribution. This demonstrates the magnitude of their faith, and their desire to preserve the main attribute of their culture.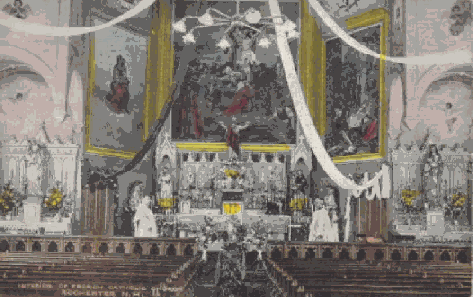 The Church shown above follows the clear pattern of many of the XIXth century churches found in Quebec with its large paintings above and on the side of the altar.
| | |
| --- | --- |
| | Exterior of Holy Rosary Church, circa 1945S |
Back to : The Emigration of French Canadians to the United States, 1840-1930
© 1999 Claude Bélanger, Marianopolis College