The Picture Gallery of Quebec History
Last revised:
23 August 2000

Boston and Maine Railway Station, Lowell, Massaschusetts (circa 1920)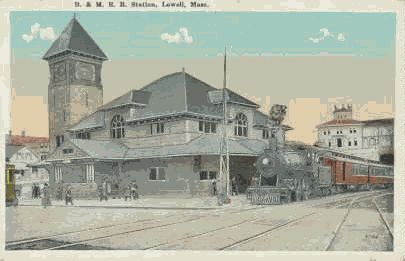 Lowell was the second largest Franco-American town of the New England area. About a quarter of its population originated from Quebec. Lowell had been an early planned city, and because of its situation had received some of the earliest textile industries in the 19th century. The founders of this city had intended it to be a model industrial city. It had deteriorated considerably by the time French-Canadians started to arrive between 1850 and 1860.
In Lowell, Franco-Americans enjoyed full fledged French-Catholic institutions. By the 1920's, there were no less than five Franco-American parishes, with 21 francophone priests. There were large parochial schools, an orphanage, various national societies and clubs. Most of the clergy was associated with the Oblate Fathers. Most of the teaching personnel was made-up of the Grey Nuns and the Frères Maristes.
Lowell was the birthplace of renowned Franco-American author Jack Kirouac.
Back to : The Emigration of French Canadians to the United States, 1840-1930
© 1999 Claude Bélanger, Marianopolis College