The Picture Gallery of Quebec History
Last revised:
23 August 2000

Bird's Eye View, Union Station, Manchester NH (circa 1915)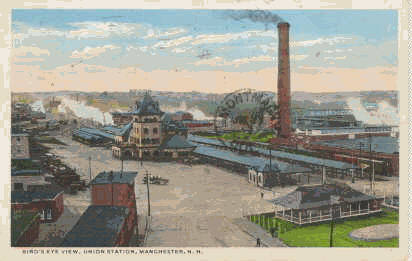 Railways were an essential component in the development of the New England textile factories. Not only were the railways essential to move the vast quantity of the production of the textile mills, but as well to bring into the region the large workforce that was essential to the proper functioning of the mills.
Prior to the railway age, travel from Quebec to the USA was difficult, long, uncomfortable and expensive, as carts had to be used. It could also only be done at certain times of the year. However, the situation changed progressively after 1840.
Several railway links were established between Quebec and the USA, especially from the 1860's. The oldest railway connection between New England and Quebec was the St. Lawrence and Atlantic Railway that stretched from Longueuil, across from Montreal, to Portland, Maine. Portland was the closest year-round open port to Montreal. This railway was used by many French Canadians on their way to Maine. Eventually, the Grand Trunk Railway of Canada acquired this railway. In 1864, the Montreal and Vermont Railway was completed. The International Quebec, the Massawippi Valley, which linked to the Connecticut and Passumpsic Railway, would follow it. There was also the South-Eastern that reached the United States via Farnham.
With the development of the railway lines within Quebec, and its regions, it became relatively easy, inexpensive, and fast for large numbers of Quebecers to emigrate to the United States.
Back to : The Emigration of French Canadians to the United States, 1840-1930
© 1999 Claude Bélanger, Marianopolis College