Newfoundland
History
"Angry Sea" in Newfoundland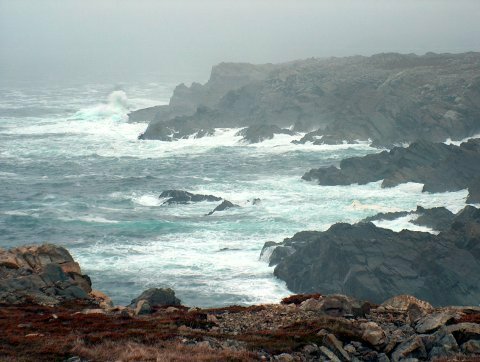 The wild and stormy coast, near Bonavista, on a freezing cold day, Mid May 2005
Photo courtesy of Thomas Gollnik (Berlin, Germany)
This picture has captured very well the awesome power of the sea in Newfoundland. The folklore, the songs and the literature of Newfoundland are full of references to the sea and to the respect for it that Newfoundlanders, who derived their livelihood from it, have always had. Many fishermen and sealers of Newfoundland have been lost at sea, caught short by a sudden storm...

A universally know saying in Newfoundland is:

"Red sky at night,

Sailors' delight;

"Red sky in the morning,

Sailors' warning".
| | | |
| --- | --- | --- |
| | © 2004 Claude Bélanger, Marianopolis College | |