Newfoundland
History
Icebergs in Newfoundland (1)
Bonavista, early June 2004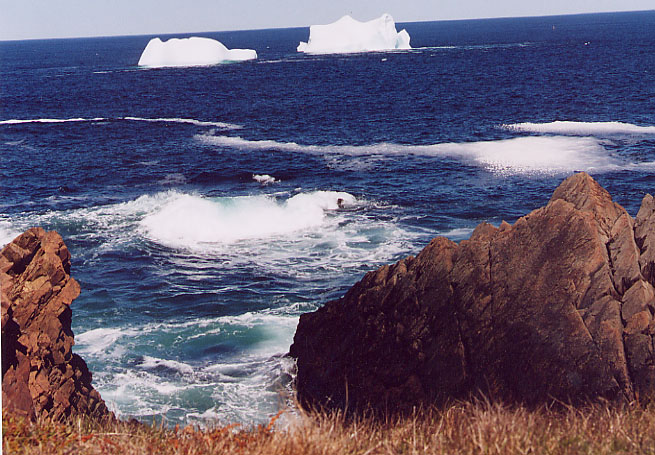 Photo courtesy of Kent Hotson
Icebergs are among the most beautiful and spectacular sights of Newfoundland. The visitor is bound to see some on the northeast coast of the province, if visiting in June or early July.

Icebergs are pieces of ice that break off the glaciers situated primarily on the west coast of Greenland and on Ellsmere Island in the Arctic. On a yearly basis, large numbers of these chunks of ice drift southward through Davis strait. From there, they are swept through the Labrador current and carried along the east coast of Newfoundland where they can be admired, but also where they may constitute a danger to navigation, as the fate of the Titanic aptly demonstrates. On a yearly basis, several hundred icebergs might drift by the coast of Newfoundland. Twillingate claims to be the best spot to see the "bergs", dubbing itself the "Iceberg Capital of the World".

Icebergs come in all shapes and sizes, some being simply enormous. Their course is unpredictable. Their colour varies according to the glacier from which they came from. They may spend from one to three years in the water before they break up into small pieces and simply melt away.
| | | |
| --- | --- | --- |
| | © 2004 Claude Bélanger, Marianopolis College | |