Newfoundland
History
View of St John's, Newfoundland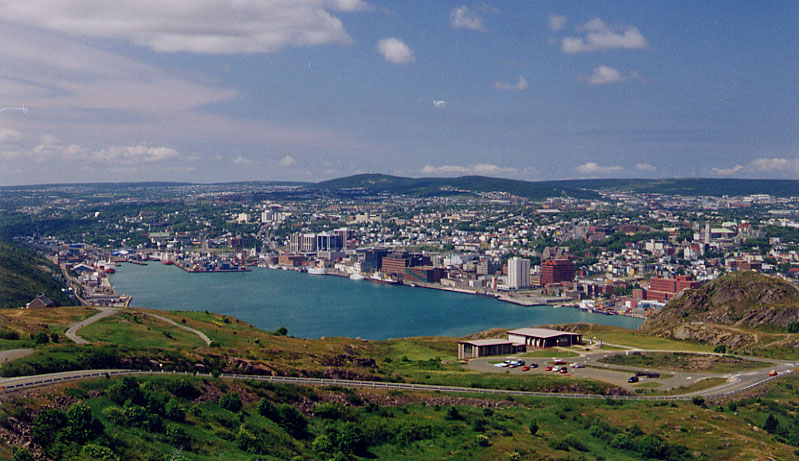 Photo courtesy of Kent Hotson
Though established quite early in the colonial period, St. John's only rose to prominence in the late XVIIIth century as the migratory fishery was replaced by a permanent one. In a few decades in the early XIXth century, not only did St. John's become the administrative, commercial and cultural center of Newfoundland, but, by 1830, the city was one of the largest in British North America, surpassed only by Quebec and Montreal. Today, the metropolitan area of St. John's boasts a population of 172,918 people, more than a third of the total population of Newfoundland.

Its port, which has always been the heart of the city, has an extraordinary location. Situated slightly inland, but linked to the sea by the "narrows", it provided a very safe harbour against natural elements and attacks from enemies. On the water front the commercial streets (Water street, Duckworth street, etc.) are situated; they are always bustling with commercial and social activities. The city, especially in its downtown core, is very hilly, with the streets winding their way around the accidents of geography. Most of the buildings in the city have been constructed since the great fire of July 8, 1892, that destroyed most of the city. The older houses, as is usually the case in Newfoundland, are constructed of wood and painted in bright colors that serve to give the city an interesting and happy look.

St. John's, as the political, commercial, religious and cultural capital of Newfoundland, is a bustling city full of interesting characters and events but on a very "human" scale. It is invariably enjoyed by visitors.

The photograph shows the city from Signal Hill where Cabot Tower is found. It is the best place from which to have a full view of the city.
| | | |
| --- | --- | --- |
| | © 2004 Claude Bélanger, Marianopolis College | |