Newfoundland
History
Architecture of Newfoundland
The Hipped Saltbox with Linney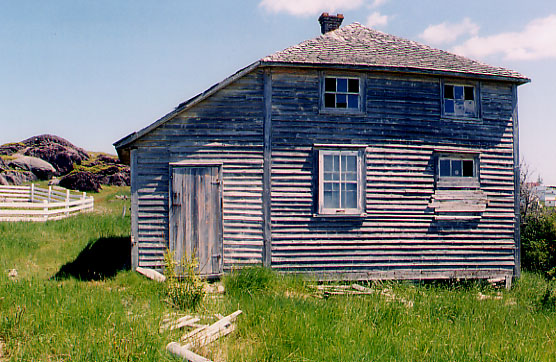 Photo courtesy of Kent Hotson
Hipped saltbox houses (so-called because they resembled in shape boxes of salt available in Newfoundland in the XIXth century) were common in Newfoundland in the middle of the XIXth century. There are relatively few left in the province as they were often prey to devastating fires that swept villages and cities in Newfoundland on a regular basis.

The "linney" was an extension of the house that was eventually added. It was frequently built at the back of the house and ran for the whole length of it.

The house pictured here is in Open Hall, Bonavista Bay, Newfoundland. Bonavista Bay has most of the remaining examples of saltbox houses with linney left in the province.
| | | |
| --- | --- | --- |
| | © 2004 Claude Bélanger, Marianopolis College | |